Posted by Bruce Anderson, September 14th , 2006.
Thousands of roofs will be replaced in the coming months in the Northfield area as a result of the August 24 hail storm, mine included. These will include not only residential roofs, but also the roofs of many larger commercial, industrial, institutional and public sector buildings.
Many badly damaged roofs are already in the process of being replaced, but some of us have yet to begin work, or have more lightly damaged roofs and the luxury of being able to be more deliberative about what kind of roofing material/system is used.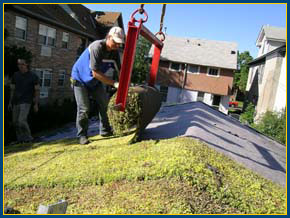 I have fielded several inquiries from folks interested in knowing about "greener" roofing alternatives (i.e. roof systems with lower embodied energy; systems with the EPA's Energy Star rating; more durable systems; roofing materials made from recycled products and/or recyclable at the end of their useful life; etc.). A good primer on greener roofing options can be found in the February/March 2005 issue of Mother Earth News.
Continue…
Filed under:
News
,
Northfield EnergySmart BuildingWorks
,
Northfield SolarWorks